Who doesn't like being a hot white guy? You're pretty much a Greek god in the gay community and there really isn't anybody you can't get. For others, you often find "no asians, no blacks" in dating profiles, which shows how racist and white-centric gay dating can be.
You see, there's a totem pole of races in the gay community, with white people at the very top. It sorta goes like this: White, Latino (honorary whites), Mixed, Asian, Black, Indian, etc. This hierarchy is responsible for all kinds of phenomena in the gay world. Take, for example, the fact that Asian-White couples often consist of an older white guy with a younger Asian. Or at the very least, an Asian who's substantially more attractive than his white counterpart. It's never the other way around.
The bias extends to pop culture. When was the last time you saw an Asian Abercrombie model? All of the main characters on Queer as Folk were white. Heck, all the main characters in the latest HBO gay drama Looking are white even though the show is set in San Francisco where a third of gays are Asian. And of course, how can we forget about gay porn?
And so I wanted to find out for myself what every gay Asian knows – no matter how hot or young you are, you'll suffer the inevitable Asian "discount" that's applied when you hit the dating/hookup market. What better way than on the most shameless, unapologetic, and narcissistic venue: Grindr.
The Asian vs. White Grindr Experiment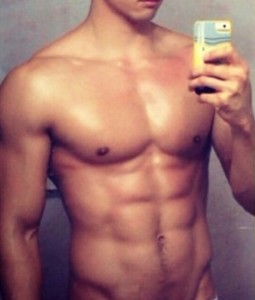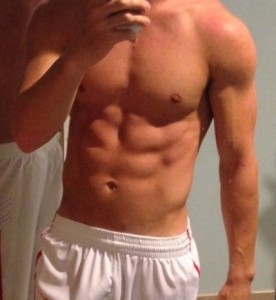 Who's hotter?
I whipped out two phones, loaded Grindr, and put two similar looking jocks to the test: 28, 5'10", 170lbs, muscular, 8"uc. What's not to like? Their profiles were exactly the same except one was Asian and the other white. I carried around the two phones for a week to different cities and here's what happened.
Raw uncut data
So being Asian my whole life, I finally know how it feels to be a hot white guy for a week. The white guy comfortably gets 1.5 – 2x more messages than the Asian. There's no other conclusion than it's great to be white. You've got twice as many guys lined up ready to suck you off or get pounded by you.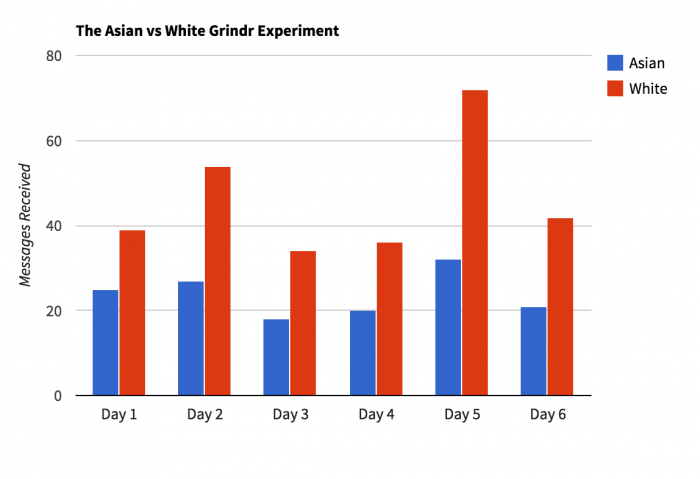 Another thing you notice is that there are many hot guys who are simply off limits to Asians. Here's one guy I tried to message as the Asian and it didn't get very far. Gays love to use the "not my type" excuse as cover for any number of prejudicial preferences. When I message the same dude as the white guy, and I instantly get cockshots, details on how much he wants to pound my ass, and whether I can host.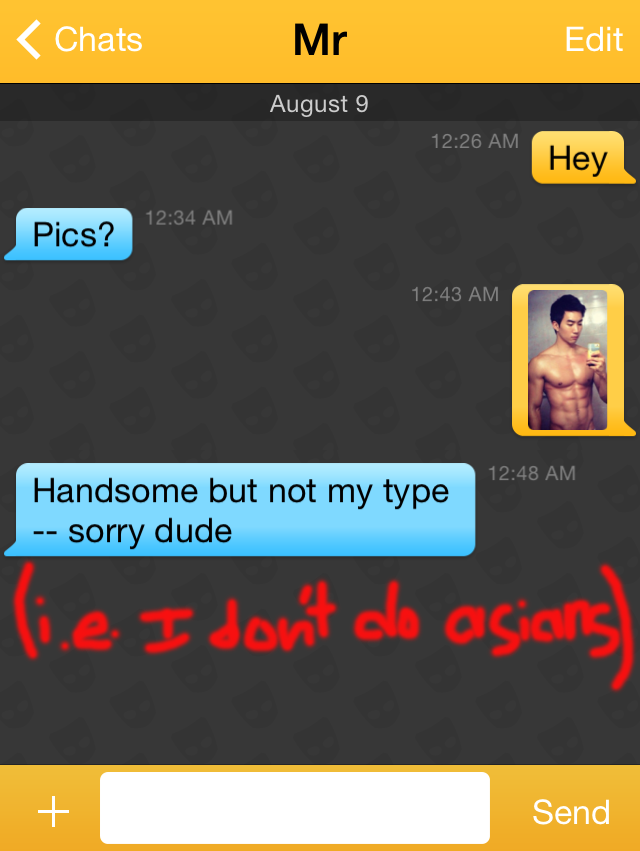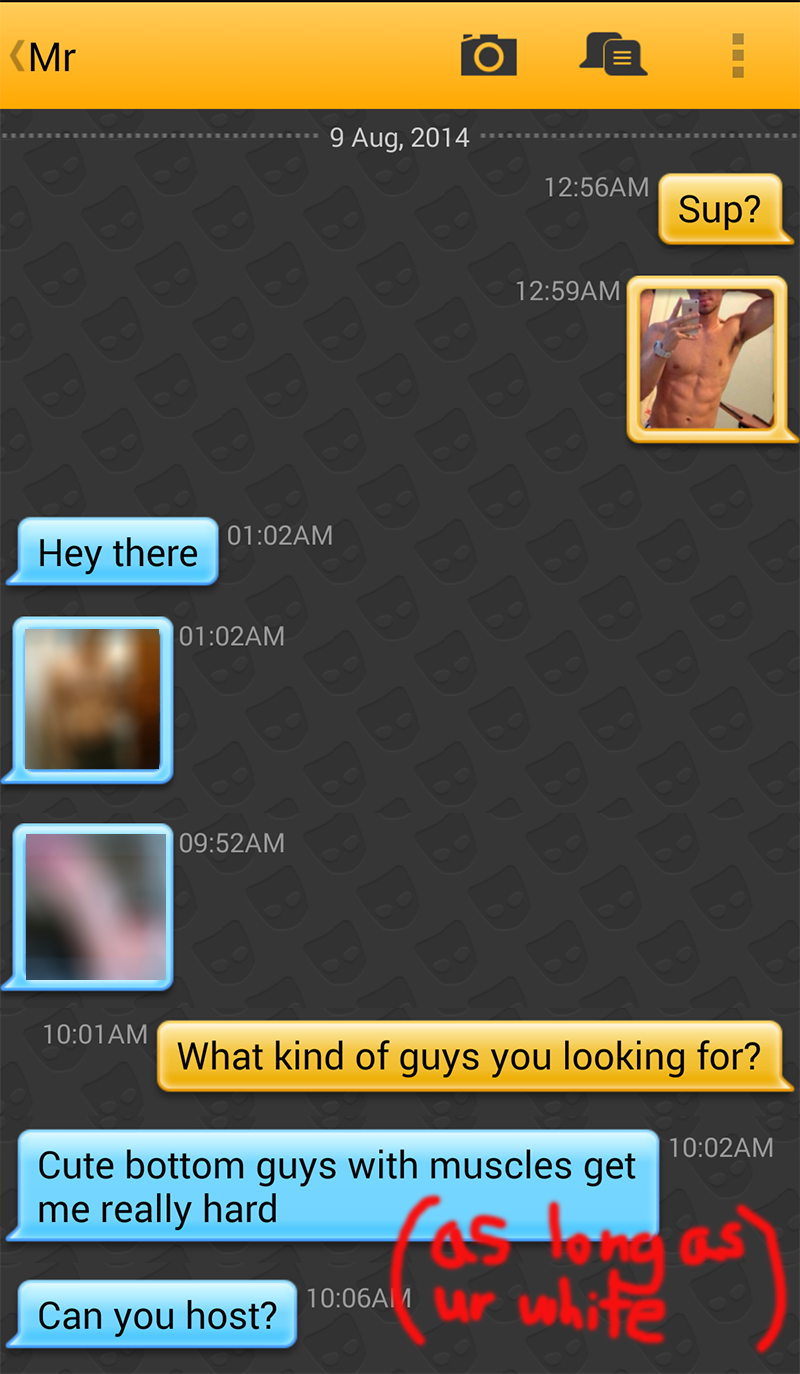 As a hot white guy, you can expect a near 100% reply rate. In fact, you wind up with the problem that more guys are messaging you in a day than you can realistically sleep with in a month. This explains why as a white guy you can get away with being a complete douchebag. Why would you waste your time with anyone other than the cream of the crop? And why settle down when you can have an endless stream of orgies?
As an Asian, you can only hope to be so lucky to get the pleasure of a response. Just for fun, I sent a fellow Asian a message as the white guy. He thought it was some kind of joke, like I was a white guy coming to the back of the bus.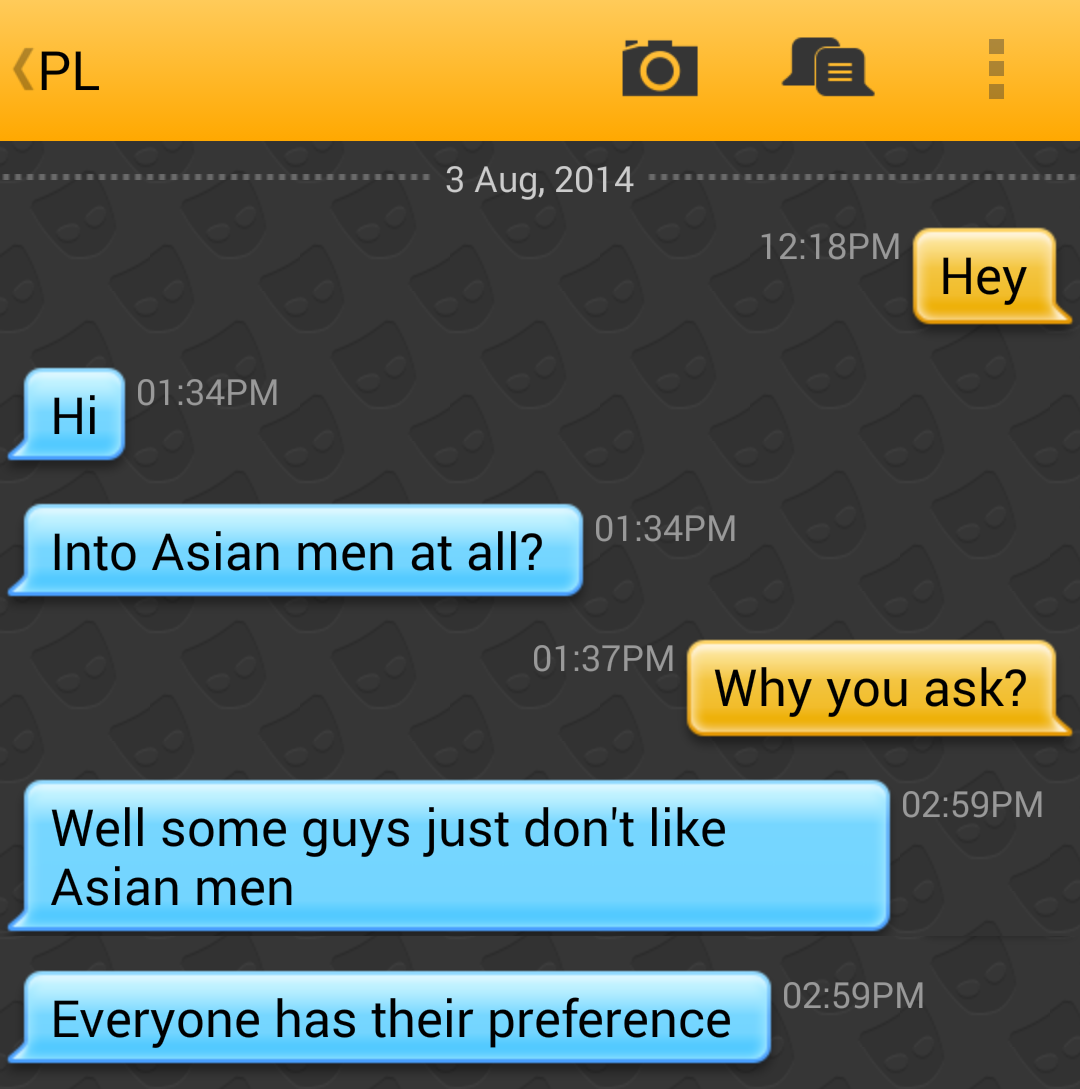 Conclusion
If you're a hot white guy, keep on doing what you do best – being white. You've got it made until your skin starts to sag. But not to worry, you'll still have younger Asians flocking to you.
If you're not white, the only real solution to this problem is to pray to god that you're born white next time. There's an inherent bias against us and you need to know for all intents and purposes, you have no realistic chance of dating a hot white guy your own age. Changing the mentality of a whole community doesn't happen overnight, and it certainly won't happen in your generation.