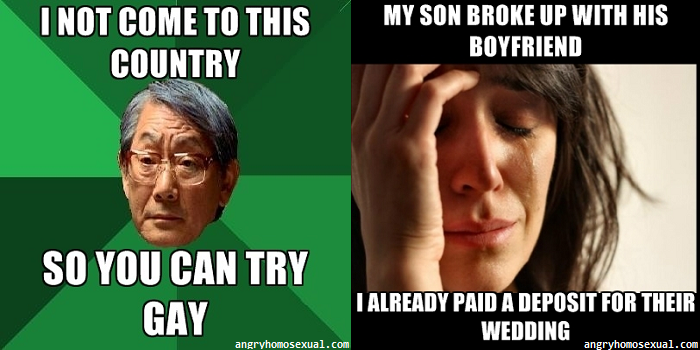 There are huge differences between Asian vs White parents but nowhere is it more apparent than how they treat gay children.
Although gay Asians growing up in the West have access to the same cultural amenities as their white peers, their parents are an entirely different matter.
Take, for example, coming out to Asian vs White parents.
Coming out to Asian vs White Parents
White Parents
By and large white gay men can expect a positive reaction when coming out to their parents unless they're from a Pentecostal family and/or a flyover state.
To many white parents it's a relief, since they've often known their son was gay long before he knew himself and they can finally talk about it in the open.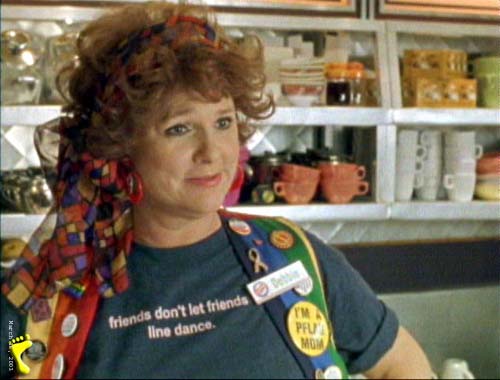 It's not long before the fact that their son is gay is no different than him having freckles or being left-handed.
Asian Parents
By contrast, Asian parents don't understand the concept of "gay" and treat a coming out like any other morally suspect Western fad, especially if their son is under 25.
Over the age of 25, coming out to Asian parents can trigger an acute mid-life crisis, the likelihood of which rises in proportion to how recently they got off the boat.
"What we do wrong?? No feed him enough??"
Rather than evolving into acceptance, the crisis mutates into a staunch form of denial that can last years or decades.
Many Asian parents will engage in guerrilla warfare against their son's perceived corruption. They'll make poorly disguised attempts to set up him with daughters of family acquaintances in an effort to steer him back on the right path.
Eventually, seeing the futility of their overbearing, clumsy hookup efforts, they'll quietly declare a ceasefire and pretend he's asexual.
Many gay Asians never come out to their parents, especially ones who still live on the other side of the Pacific. They'll spin impossibly elaborate stories, engage in sham marriages and artificially inseminate lesbian women in order to appease expectations, things that would be unthinkable to white gay men.
Introducing a Boyfriend to Asian vs White Parents
White Parents
White parents are usually eager to meet the boyfriend of their gay son, sometimes treating him better than if he was a girlfriend in a effort to be progressive and inclusive.
In the absence of personality clashes, boyfriends of white gay men can expect to be adopted as a prospective son-in-law. White boyfriends will befriend each other's moms on Facebook and take turns joining each other's families for Thanksgiving, Christmas, and weddings.
Asian Parents
Only the bravest and most foolhardy of gay Asian men would even attempt to introduce a boyfriend to his parents as such. Instead he'll play a charade, presenting his boyfriend as a "roommate", "colleague" or "classmate," even if they attended different colleges.
Asian parents aren't dumb and quickly see through the charade, at which time they become co-creators of it, despite the obvious inconsistencies.
The more prestigious the boyfriend's occupation (doctor, engineer, etc.) the more likely Asian parents are to try and remember the name of their son's "roommate."
Breaking up with your Boyfriend – Asian vs White Parents
White Parents
When white parents find out that their son has broke up with his boyfriend, it can be a rather devastating affair, especially if they liked him. They might lambaste their son for losing such a catch. They can't help but get caught up in the drama of the breakup, taking sides with their son and/or his ex as appropriate.
In extreme cases, white parents (mothers especially) will travel across the continent to comfort their gay son after a breakup and make sure he finds a good therapist.
Asian Parents
Asian parents' reaction to their son's breakup will range anywhere from total indifference to muted delight. They'll quietly ignore their son's suffering, but wait for just the right moment in his recovery to deliver some well-meaning advice…
"Maybe next time you try girl."