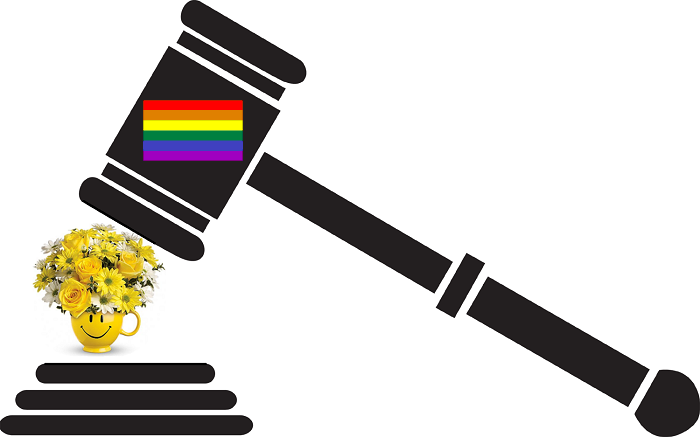 As gay marriage becomes legal across the country, gay couples have started suing florists, bakeries, photographers and anybody else who refuses to do business with them. Even churches aren't safe.
After all, we're now equal under the law, so if a florist, baker, or photographer is going to cater to a straight wedding, they should be equally welcoming of gays, right?
I cringe at what these couples are doing
It seems we've forgotten that we live in a (supposedly) free country. And living in a free country means being free to choose who we do business with.
When we gays fought (and continue to fight) for marriage equality, it was mostly against the government. We're expected to pay our taxes, obey the law and fulfill our duties to the state like everyone else, so we rightfully have the expectation of equal treatment by our government. If our government offers marriage as a service and benefit to straight people, it damn well better offer the same to us.
When it comes to private business, it's a different story. Private businesses, unlike governments, don't usually hold a monopoly on their services. If Betty the Florist doesn't want my business, I can go to Cindy the Florist. And guess what? There are a gazillion florists looking for business.
If someone doesn't want to do business with me, that's their freedom. Why would I want to force them against their will? Are they going to do a good job for me if I did? If I was that florist, I probably wouldn't supply them with the nicest flowers in my collection. They might get some wilted or desiccated ones in retaliation.
Don't get me wrong. I would feel extremely hurt if a florist refused to serve me at my wedding because of my sexual orientation. But I wouldn't take them to court and force them to do it, because I want to do business with someone who wants to be there. I don't want forced labor at my wedding. Obviously I disagree with their religious beliefs but it's their right to believe whatever they want.
If a business denies you service because you're gay, tell your friends about them. Bitch about them on Yelp or bash them on your blog. It's a competitive world out there and if they're a truly bad business they'll get crushed in good time. But come on, suing them? For what? It's almost like repression in reverse.
We've lost our way. As gays, we want others to respect us and leave us alone to be who we are. Why can't we do the same for others?