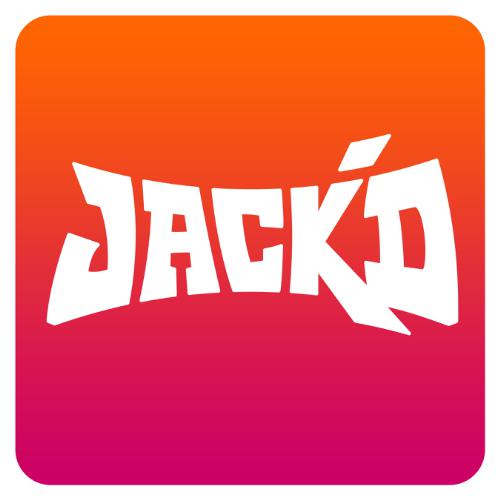 It's a well known fact that gay white guys generally prefer to date other gay white guys. Gay Asians know it all too well, but we're mostly complaining in our own echo chamber while white guys party on.
But there's another form of subtle racism that we rarely talk about – gay Asians discriminate against themselves in favor of whites.
I've seen many an Asian stricken by potato fever, but I wanted more than just anecdotal evidence. So I dug around for some data, turning to Jack'd, one of the most popular gay mobile dating apps. After going through 200 profiles, I was shocked at what I found.
Jack'd is a treasure trove of data
Ok, so where is this Jack'd data? As an unpaid user, you only see other guy's reply rates, however if you cough up the dough for a Pro subscription, you get access to statistics showing which age groups, scenes (twinks, bears, etc.) and races another user is interested in. There are two features in Jack'd that are used to tabulate a user's racial preference: Match and Favorite.
For Match, Jack'd shows you random profiles of people in your city and you either click Interested, Not Interested or Skip. The Favorite button bookmarks guys you like while you're browsing. When you Favorite a guy, he'll be saved in your Favorites folder and he'll get notified of it.
Methodology
I randomly picked 100 Asian guys and 100 white guys who were last online in San Francisco.
San Francisco, the gayest city in the US, was a natural choice for this study. The city is 34.4% Asian and 41.6% non-Hispanic white. Because both races are roughly equally represented in the city, one can study their preferences for each other without having to account for Asians being a small minority, which they are in most of the US.
To ensure a reliable sample, every profile needed to have a face picture and a plausible age (i.e. not 99). They also had to have an interest in at least two different age groups and two different scenes in order to select for people who've used the Match and Favorite features extensively. I wanted to target only San Francisco residents so I excluded anyone whose profile said they were visiting.
Diversity of Jack'd Users
I picked a random point in central San Francisco and counted all Jack'd users within a one mile radius. This one mile radius covers a diverse array of neighborhoods in the city, with bits of the Mission, the Castro, the Haight, SoMa and the Tenderloin.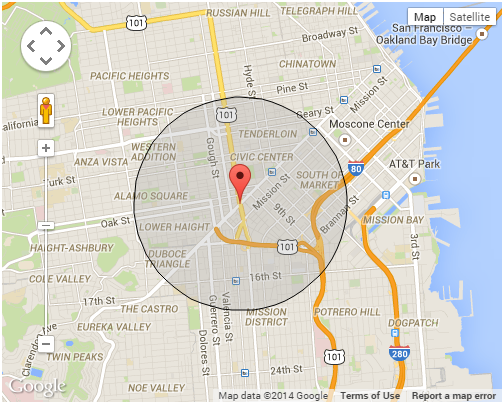 You might be wondering how well Jack'd users represent the whole rainbow of races out there. It turns out that Jack'd users in central San Francisco form quite a colorful rainbow.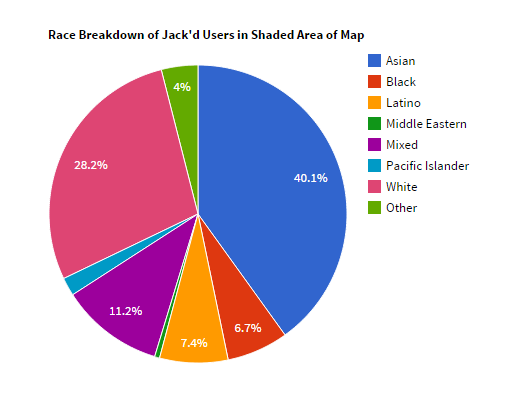 One might say that Asians are over-represented on Jack'd, which isn't surprising given Jack'd's reputation as an Asian-heavy app. If anything, the over-representation of Asians is a good thing because if we observe a bias against Asians, it can't be attributed to their low numbers.
Determining Racial Preference
For each of the 100 Asian and 100 white guys I studied, I recorded their age, reply rate and the ethnicity distribution of guys they're interested in.
For example, we can see in the following example that 92% of the guys Freddie's interested in are Asian, 5% are Pacific Islanders, and the remaining 3% are split between Middle Eastern, Mixed and Other. He's never Favorited a white, Latino or black profile.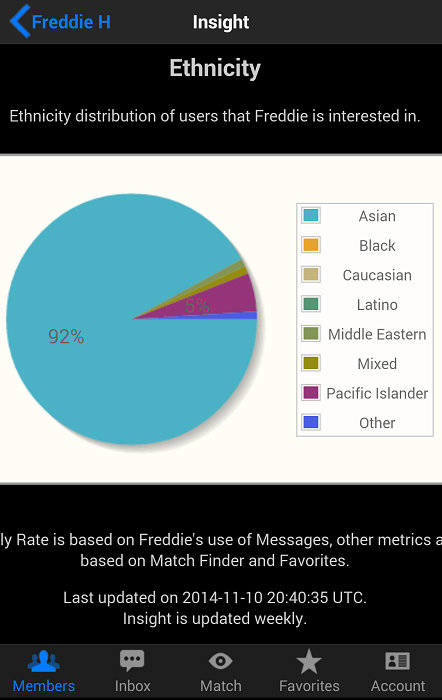 After recording the ethnicity preferences of 100 Asian and 100 white profiles, I analyzed the data to see if I could find any obvious patterns. It didn't take long…
Asians and Whites both avoid Asians
It turns out that both white and Asian men are somewhat allergic to Asians.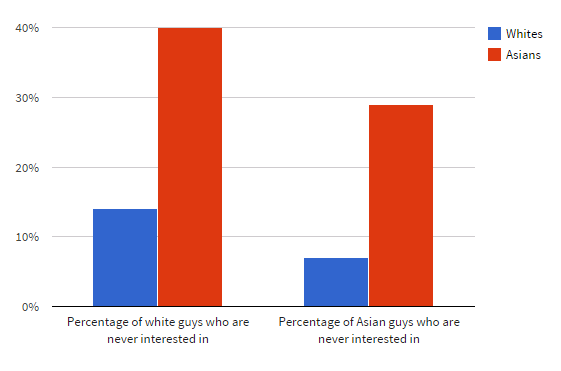 Not many rice eaters
There's a strong bias against Asians. A significant proportion of white guys (40%) and Asians (29%) are never interested in Asians. That jives with OkCupid's data showing that 43% of gay whites preferred to date their own race.
Plenty of potato love
Whites don't have many haters. The vast majority of white and Asian guys are interested in white guys to at least some degree. I've heard many white men complain about sticky Asians, but the fact is that 93% of Asians are open to dating a white guy.
Whites prefer whites, but Asians prefer whites even more
A person prefers a race if 51% of the guys that person is interested in are of that race.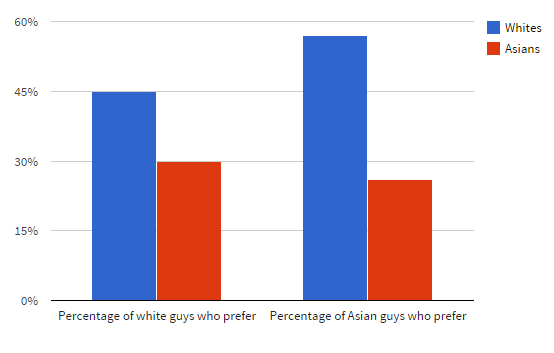 Asians have a stronger preference for white guys than white guys have for each other
The majority of gay Asians, 57%, prefer to date white guys. By contrast, only 45% of white guys prefer to date other whites. Also remember that 40.1% of users are Asian and 28.2% whites. The supply and demand dynamics are incredibly unbalanced and quite frankly sad. Why do Asians have such a gravitation towards potatoes?
Quantifying Rice Queens and Potato Queens
Let's raise the bar even higher and see what happens when we try and pick out the rice queens and potato queens. A rice/potato queen is someone who prefers Asian/white 70% of the time or more.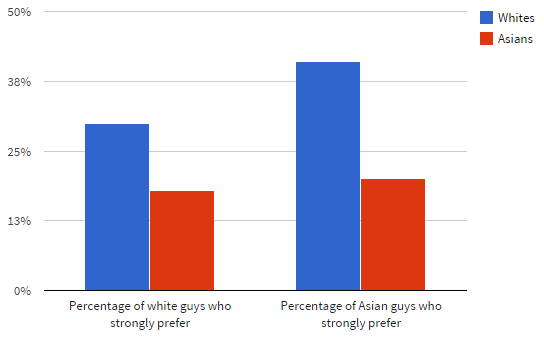 Can you say potato addiction?
41% of gay Asians are potato queens. Gay Asians really, really love white guys. Almost half of gay Asians love white guys to the point where it's an obsession. Compare this to only 18% of gay white men are rice queens. This is great news if you're a white guy who eats rice.
Rice queens have the upper hand
A couple weeks ago I argued that the Gaysian dating world is stacked in favor of rice queens. Now we have the numbers to back that up. For every rice queen, there are 2.3 potato queens. White guys have their pick, but Asians have to settle for whatever they can get.
The only way all those gay Asians will settle with white men is to lower their standards and date older and/or less attractive white men. There's no other way all those gay Asians' desires can be accommodated.
I've put all the numbers we've seen so far onto one chart.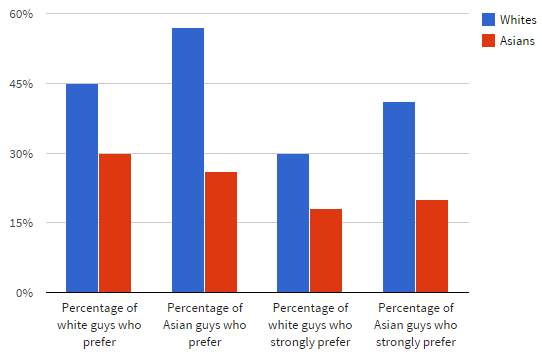 Notice that Asians and whites both prefer white guys by a substantial margin: the white guy is always more desirable than the Asian by a factor of 1.5-2x.
If you remember my Asian vs. White Grindr Experiment from a while back, you'll recall that a hot white guy can expect 1.5-2x as many Grindr messages as a similarly endowed Asian. That's almost identical to the margin by which Jack'd users prefer whites over Asians.
Asians are racist too
We often think of racism and discrimination as something whites are guilty of. But it turns out Asians are equally guilty of discriminating against themselves. You might write off the racism of whites as simply a preference for dating people who look like themselves, but how do you explain the preferences of gay Asians?
At least in the minds of gay Asians, white men are the gold standard of beauty and desirability. Maybe it's an unavoidable consequence of growing up in American culture, where seeing almost nothing but whites on movie screens and fashion runways has indoctrinated us to the idea that only whites are attractive.
You might think that gay Asians, having grown up with the dual stigma of being both a racial and sexual minority, would be more open-minded than your average person. Some certainly seem to think they are: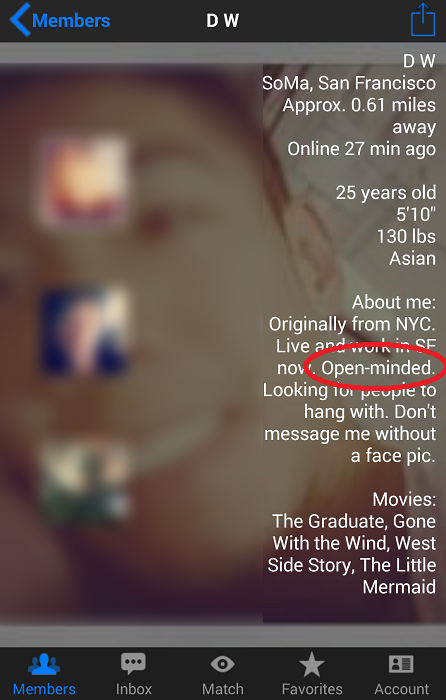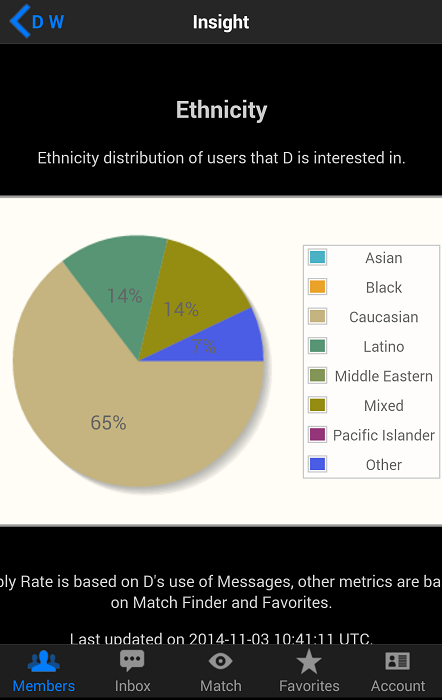 Oops. I guess he meant to say he's open-minded unless you're Asian. 😉
I once said that gay Asians have no realistic chance of dating a hot white guy their own age. It turns out they might have the same struggles finding a hot Asian their own age too.